Selalu nya kalau water villa nie terletak kat laut kan.. tapi kat Mangala Resort & Spa nie unik nya korang berpeluang utk menikmati penginapan water villa di atas air tasik!
Gelojoh Kak Neen.. terus tepek gambar kat balcony bilik Jala Villa nie dulu utk tatapan korang! Ahahaha... excited okkk nak share sbb bilik dia cantik menarik tertarik da bomb! Hehe..
Ok macam biasa lah.. Kak Neen akan bawak korang terokai bilik yg Kak Neen duduk nie secara detail...
Kiteorg stay dekat Jala Villa no. 209!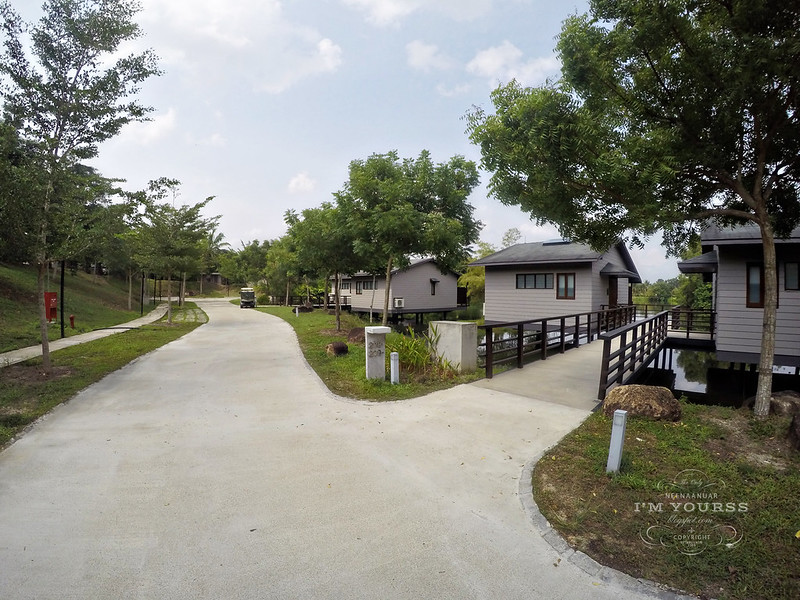 Nie permandangan kawasan persekitaran villa kiteorg!
Ok jom lah kite masuk ke dlm water villa nie!
Masuk2 bilik jer en.teman teruss terbongkanggggggggg...
Mengantuk betol diaaa kekdahnya... drive dari KL ke sini tak sampai 3 jam pun.. tapi dia punyer letih lain macamm... org tua macam tu lah! Ahahaha... dia tengah tido berdengkorrr tuuu... aku amik gambar secara curik2 pun dia tak sedarr... hehehe.. waktu dia tido aku lepak kat sofa makan dark chocolate chips cookies.. layannn giler makan cookies sengsorang... nasib dia take a nap sekejap jerr! Bile dia bangun baru kiteorg sambung amik gambar bilik nie...
Kesian plak lakik aku kene tido atas lantai ... eh tak yah nak kesian.. sapa suruh nak tido dulu baru nak amik gambar... so padan muke dia! Ahahah... ye lah.. macam mana nak bagi dia tido atas katil yg cantik macam nie???
Kalau atas katil takde decoration takpe lah dia nak tido atas katil.. nie atas katil ade decoration skit punyer sweet and romentik... abis lah decoration nie nanti.. kalau dia dah amik gambar terlebih dahulu takpe lah nak hancus kan decoration nie! hahaha....
Wahai haterzz yg kejiii.. aku tahu nanti ko mesti nak tinggalkan komen skit lebih kurang macam nie.. "teruk nya you ni.. isteri derhaka... ade ke patot suruh lakik sendiri tido atas lantai semata-mata tak dpt nak amik gambar katil yg ade decoration tu!"
Ehhh.... haterzzz... ko tak yah lahh nak emo sgt eh.... lakik aku yg suke and request nak tido kat lantai.. lakik aku kan ohsemm... so ko tak yah nak susah hati sgt eh! Better ko pegi cuci hati ko yg hitam tu supaya menjadik putih macam bedsheet tu lagi bagus! :p
Sorry tetiba ade iklan pesanan dari penaja tadi! Ahaha..
Comel lah bed decoration nie.. ade 2 ekor burung merak.. and then bauu bilik nie pun wangi semerbak disebabkan oleh daun pandan dan bunga-bungaan tu!
Ini lah permandangan sebaik sahaja kite masuk2 pintu bilik Jala Villa nie.. luass sgt bilik nie... I loikke!
Dekat pintu masuk ade kabinet kasut.. eh jarang sgt rasanya hotel ade bagi kabinet kasut macam nie tau... hehe..
En.teman biasalah.. kalau amik gambar mana reti sikit2... abis seluruh pelusukk angle di amik nya! Punyer nak bagi nampak gambaran sebenar bilik tu macam mana kekdahnya... hahaha...
Tilam empuk.. bantal pun empuk.. air-cond pun tip top.. serious selesaaa giler tido kat sini!
Yang best nya bilik nie ade balcony tau... and then view dari dlm bilik pun cantik.. boleh nampak tasik kat luar sinunn!
Jom kite keluar jom!
Suker sbb ade meja kopi kat balcony nie.. petang2 boleh lah bancuh air kopi milo utk bersantaian!
Of coz view dari balcony bilik nie pun ohsem!
Ni suasana di pagi hari... boleh layan sunrise jugak dari sinI!
Dating berduaan tanpa sebarang gangguan!
Dari balcony bilik kiteorg boleh nampak Jala Villa jiran sebelah! Hehehe.. kot korang nak datang ngan kengkawan or family.. boleh lah booking sebelah menyebelah macam nie kann...
Kak Neen suke sgt2 lepak kat balcony bilik Jala Villa nie.. view dia sgt2 menenangkan dan mendamaikan... it is just between you and the nature! Owh utk org2 pencinta alam semula jadi macam Kak Neen memang suke lah stay kat sini!
Nie video yg en.teman record di pagi hari... di kala matahari terbit.. terdengar suara burung berkicauan... oh indahnyaaaaaaaaaaaa... I love this kind of environment... sunyi dan mendamaikan!
Now jom Kak Neen nak tunjuk bahagian ruangan dapur yg berada dlm villa nie pulak!
Smart villa nie.. siap bagi kitchenette lagi.. ade sinki.. ade tempat nak prepare food stuff! Of coz no cooking session is allowed la kann.. but yet takat nak prepare maggie.. nak buat air... or kite tapau food from outside... senang nak handle food stuff kat dapur yg comel nie sebab ade sinki...!
Ade coffee machine yg canggih tau! Tapi aku rugi la sbb tak minum kopi.. I'm a MILO girl! Ahaha..
Macam biasa.. en.teman kalau amik gambar mesti complete and detail kan.. so nak share jugak lah ngan korang.. dlm bilik nie ade bathrobe.. ade iron.. ahaha..
Ade safety box..
Toilet dia besauuuuuuuuuu gilakkkkk okk.. rasa macam boleh guling2 kat dlm nie sambil mandi manda... ahahaha...
Ok lagi satu yg best dekat resort nie.. kite boleh buat aktiviti cycling tau.. itu akan aku cerita kat entry yg lain la yer...
Bilik jenis Jala Villa memang terletak di sekitar tasik nie...
Macam biasa.. En.teman memang suker nak record video kegonjengan aku bile masuk bilik... hahaha.. layannnnnnn kan ajer lah yerr!
Ok nie baru satu bilik... ade lagi satu jenis bilik yg aku stay kat sini tau... ahaha.. will share bilik yg ohsem tu kat dlm entry yg lain.. tapi lepas nie aku tak nak share entry bilik tu dulu.. aku nak share aktiviti yg aku lakukan kat sekitar Mangala Resort & Spa nie.. so korang tunggu okkk.. serious rugi kalau korang tak follow entry2 yg seterusnya nie! hehehehe...